I love motorcycles and have owned many over the years.
Here are pictures of a few of the wonderful bikes I have owned or own.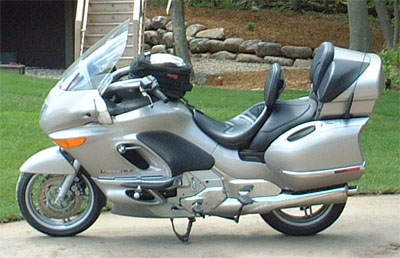 1999 BMW K1200LTC

Okay then, I have finally gone completely bulbous. This is the latest ride. Yeah, it's big, but nothing else eats up road like this pig.
Last summer it got me from Savage, Minnesota to Boseman, Montana in 14 hours flat. (1000 miles). I couldn't do that on the machines below. Sigh.
I got this one from madman Eddie James, who was a great long distance rider that I miss very much!.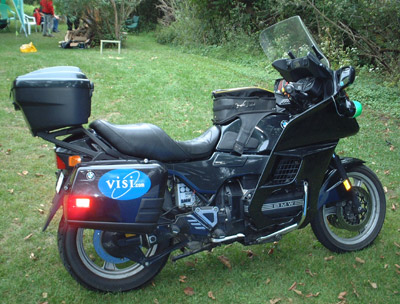 1994 BMW K1100LT

Here is a picture of my previous bike. It used to be my favorite.
I still have it, but don't ride it much any more. (sigh)
In fact, it is for sale to a good home. Make me an offer. :)

The previous owner is a world famous long distance rider.
He used to ride this politically correct bike.
Now he has gone mad and prefers Hondas. Go figure.
Update! Now he has purchased the bike above and I have a new bike I haven't listed here!!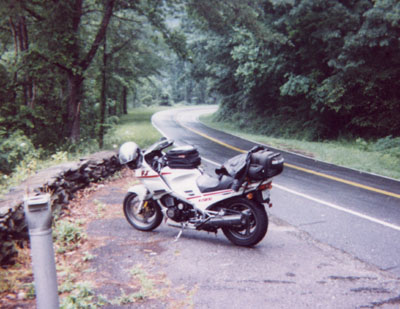 1989 Yamaha FJ1200

This is a picture of my Yamaha FJ1200 on my favorite road, "Deal's Gap" which runs along the border of Tennesee and North Carolina.
With "the river of mist" on the left, and the Smokey Mountains National Park on the right, it's one of the best roads in the country for motorcycling.

At it's best Deal's Gap offers 318 turns in 11 miles. This is smooth blacktop in a beautiful setting with banked, tight turns. I imagine it would look better if I wasn't trying to do it in as little time as possible...

This is my second FJ, as I traded my 85 1100 on this beast in the spring of 90. It has the best motor in motorcycling I have ever experienced.
This poor thang has been living in my shed (put away properly of course) ever since I got the LT above. Maybe next year....

July 2003 Update: Well, maybe not next year. Poor thing is sitting in the garage waiting to be loved. Maybe next year?
(and as for "put away properly, I guess not. The carbs need some work before this one is used again)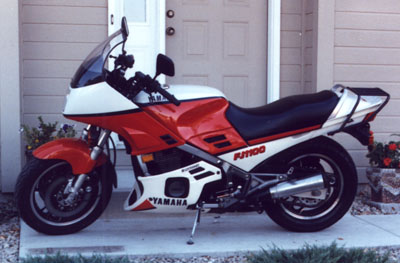 1985 Yamaha FJ1100

This was my first FJ,. It had the Supertrapp exhaust that I still want for the 89. But no luck. This bike was determined to be "Instant Death" by the neighborhood and my mom. I only had one accident with it which unfortunately destroyed the lower fairing, as well as the oil pan.
Damn cement curbs! I miss this bike more than I can say. Traded her in for the 89 model above.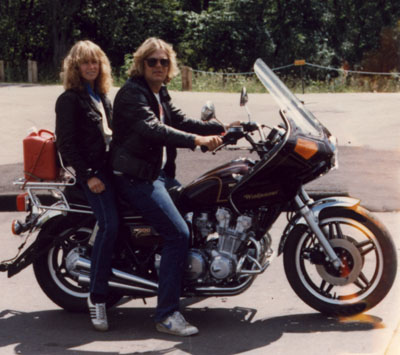 1980 Honda CB900 Custom

This was my first big bike.. I loved this thing to death, with death coming at about 70,000 miles. (for the bike) I made a mistake and used leaded gas which prematurely ruined the cylinder head and valves. (carbon buildup) I meant to replace the engine as rebuilding it was way too expensive. I ended up giving the thing away after storing it in my garage for 5 years.
Sadness, I loved that bike!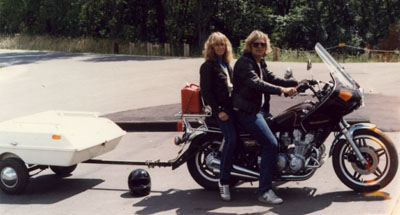 Oh look! Something is behind the bike! This was our trailer, which held more stuff then I can remember. I do remember driving to Tennesee (first Deals Gap run) with the trailer behind. I drove the gap as hard as I could forgetting the trailer for a little while. Everywhere we stopped someone would say "How does that thang pull? Does it fold out into a tent?"
It pulled fine, it did not fold out into a tent. Although the bike is gone, I still have the trailer. Cute little thang, pulls real good.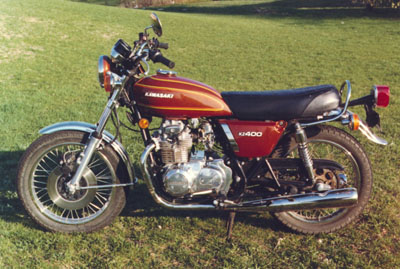 1976(?) Kawasaki KZ400

This was my very first bike . It leaked oil like no other bike ever. It was a pain in the butt to keep clean, and here it is clean, forever.
Note the Simichrome shine on the engine cases. I think this bike was 10 minutes old at the time of this photo.
I drove the hell out of it, and loved it even though it was a toad.

Years after I sold it to a friend I saw it at the Jordan motorcycle boneyard. It looked fine. Apparently whoever owned it last got bored with it. I guess I did too. Poor little thang.
In the future I'll add some shots of my Kawasaki KDX 200 Enduro. I took up Off-road riding and racing rather late in life (at age 37) and although it beats me up from time to time, it's a fun challange to try and finish the Enduro's I race in. I've since retired from Enduro life, but still ride in the woods for "fun". Then there is the new four-wheeler thang. Hmmm.